YOUR WINE HUB
EVERYTHING ABOUT WINE
Mission
Our mission is to become your wine hub. It's your place to visit where we'll open the door to "the world of the wine maker". We will be here whenever you want crafted wines and wine information.
Values
We live by our values … it's not hard when it comes as a natural way of life like it does for us. We believe wine makes the world a better place.
Wow – we seek to create 'wow' with customers, suppliers, partners and ourselves by going above and beyond – we value exceeding expectations and delivering outstanding value at every opportunity.
Serious yet fun – whilst we are serious about the wines we produce and services we provide, we have a lot of fun and laughs along the way.
Passion – we are passionate about all aspects of our business – crafting wines, growing grapes, service to our customers and making people happy.
Experiment – experimentation is a one way we develop and improve. We 'tweek' things in the vineyard and winery each year as we craft the best possible wines from the grapes we start with. We encourage people to experiment too by exploring, learning and being open to new wine experiences.
Appreciation – we appreciate our customers and suppliers. We like saying 'thank you' for trusting us with your winejoyment.
Open – we love feedback, we are open to anything you tell us about our wines and your experiences of our business….because we strive to be the best we can
As a first generation winemaker, Simon Hall's passion for the grape probably finds its roots more in the soil of Griffith than his blood.
Growing up around the vineyards of the north-western Riverina, the 30-year-old was drawn to the labs and cellars of the region as a work experience student and he has never looked back.
Hall says that his interest in pursuing winemaking as a career was driven partly by curiosity and mostly by variety.
"I like the mix of business, science and agriculture and the challenges of each year that you have to face," he said, "I found winemaking gave me a good variation. You are inside for some parts and then you are out in the vineyard."
The quietly spoken and unassuming Hall added that grapes don't talk back.
A graduate of Charles Sturt University, Hall is passionate about educating the public about wine and sharing his love for a nice red.
"Simall wines is going down the education path as a point of difference. We are a local wine maker and targeting people who might like to support a local drop," he says.
His locally produced wines include Southern Highlights, Vita Vie, Serra Vista, Take A Gander, Keaton and Estella.
Hall says that working the vintages in France, New Zealand and California – as well as the Hunter and Barossa Valleys – gave him an insight into winemaking that allows him to be experimental and creative.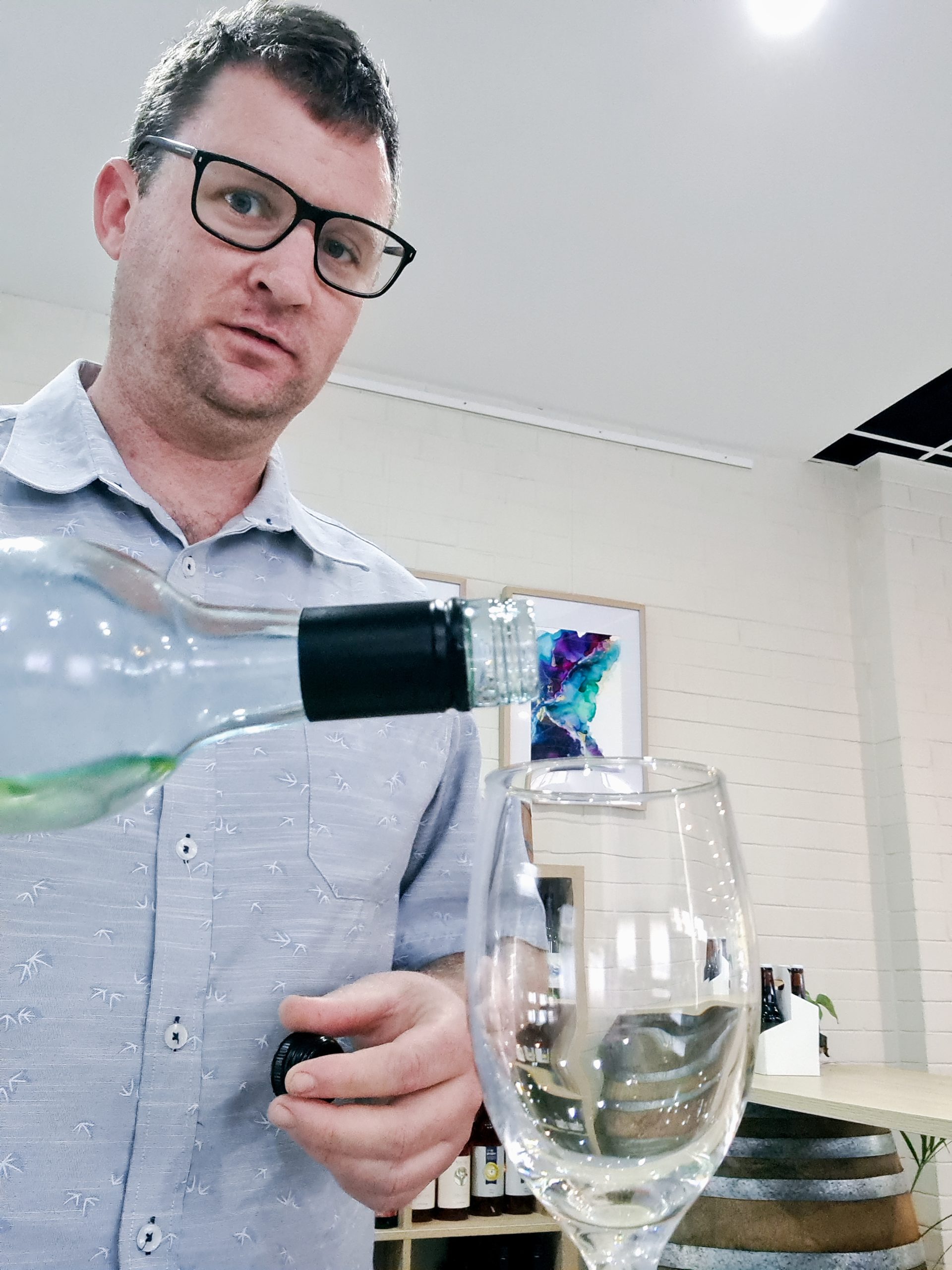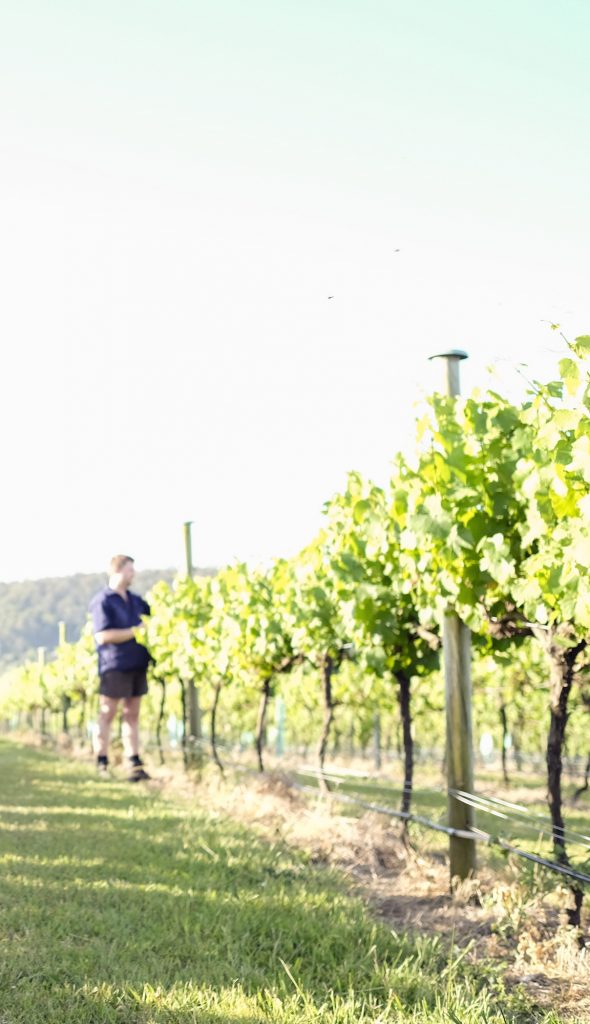 "I love playing with the wine and seeing what you get. That is the experimental part," he says.
"For a lot of my wines, I get them made under contract. This means I liaise with another winery to decide when to harvest the grapes and how to process them into wine. I will then re-blend the wine and play with the acid and sweetness level of it and add a tiny bit of grape concentrate, you can really change the wine and soften it down. Tiny little tweaks can really change a wine."
Hall says that the quality and ripeness of the grape play a large part in the final taste.
"There are variations in each vintage. It is a matter of balancing the fruit flavours with the sweetness with the acid. This year we picked the Southern Highlands grapes a bit earlier than we normally we would have. So there are not so much fruit flavours, but there's a lot of acid so it's quite a good length and nice and crisp compared to other years," he said
For his own taste, Hall prefers a fuller red derived from a cooler climate from the Hilltops wine region in NSW. "I prefer fuller bodied reds with nice red berry fruit flavours like those from Young. Unlike the Barossa Valley where the grapes often become over ripe and the actual physiological ripening process stops and the grapes shrivel. These wines are typically more jammish with full fruit flavours as opposed to say Young, where we are getting a bit cooler weather and they are actually ripening properly"
Hall said that the barrels also play a part in the final flavours through the tannin seeping into the grapes.
"I like a bit more American oak in mine which is a bit more coconut and vanilla flavoured." 
It is clear that Hall has developed a deep interest in the process and is determined to travel far and wide to learn his craft. Knowing when to pick, balancing fruit and acid, and chewing the skins are his stock in trade. 
In recent years, Hall has moved to the Illawarra to marry and start a young family. He is the winemaker at Two Figs near Shoalhaven Heads while building up a following for Simall Wines. Hall has brought a rich depth of experience and knowledge to the wine making industry in the Illawarra and South Coast. 
"Moving to France, I was determined to build on the knowledge I learned at home. Being in bigger wineries, you were just doing one or two jobs in the winery. Because this winery was so small you were doing everything, like I do at Two Figs now." 
But Hall does not deny that pursuing his passion comes with a cost. The hours at vintage are particularly long and hard on his young family, the pay is poor and with 2,468 registered winemakers in Australia, the competition is hot. 
Hall estimates that around 20% of companies sell 80% of the wine in Australia. Yet Hall has a determined sales team who have managed to get his drop into 100 bottle shops, restaurants and distributors across NSW, mostly on the South Coast and Southern Highlands. 
Hall keeps coming back to the reason he got into winemaking – sharing his curiosity with others. For him, it's always about the story behind the wine. 
"I like talking about wine and how it's made and the chemistry behind it to people who are fascinated and interested in it. There are a lot of people who are fascinated about wine and the process," he said. 
He is not wrong.